Located in Orlando, Florida, John and Matt formed this partnership in 2015 to focus their efforts on the parts of their individual careers that they enjoyed most. They get excited about product design and the new product manufacturing process. They focus on plastic part design, electro-mechanical products, medical products, and products with special environmental needs from MRI systems to restaurants. They have over 25 years of product design experience for major medical product companies, small medical companies, military contractors, start-ups, restaurant industry product manufacturers, and automotive component companies. They have experience with regulatory compliance including FDA (Class II, GMP), NSF, UL, ETL, SGS, Australian C-Tick, CCC, and CE Marking. They have experience with ISO 9001 compliance and can assist your company with compliance of the document management system for technical drawings and the ECO process.   They enjoy the process and sharing their knowledge to ensure great results. This partnership between John Burrill and Matthew Mercier is available to your company to turn those great ideas into great products.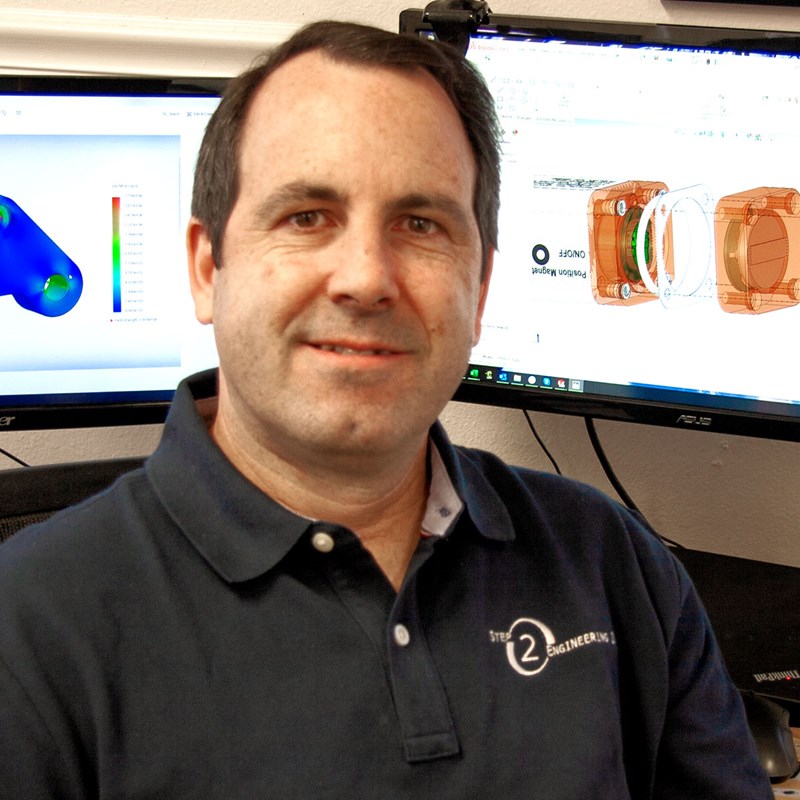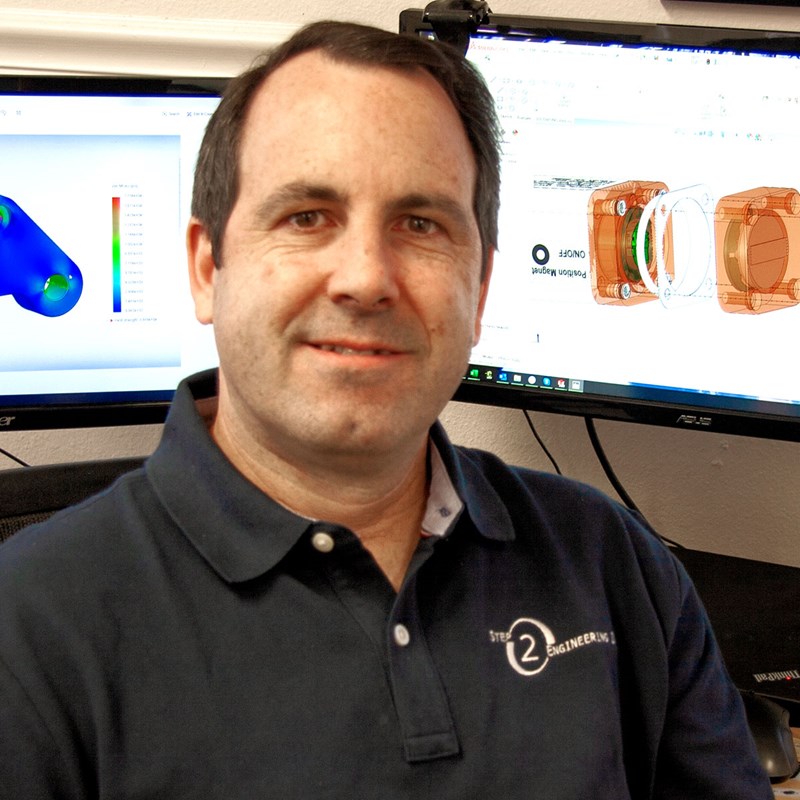 Matthew Mercier
Matthew's diverse interests include motorsports, guitar playing, soccer, machining, metal fabrication, programming, electronic "maker" projects, and woodworking. As an engineer and technical director at his previous employers, Matthew provides patentable, award winning, profitable solutions that are available in the market today. With a strong focus on plastic part design and integrated electronics, Matthew applies the knowledge gained in his work at small and large medical equipment manufacturers as well as small, short run, product companies to solve challenging design problems. Matthew enjoys brainstorming about new product ideas and engaging with inventive, entrepreneurial people.
John Burrill
John is an engineering designer with 20 years of experience creating products for manufacturers.  His experience includes mechanical, electro-mechanical, opto-mechanical, material handling and simulation system packaging and product definition.  He is also a highly skilled at creating technical publications, ad copy and software customization through application programming interfaces.
When not working, John likes food, metaphysics, working on his car, continuing his education and travel.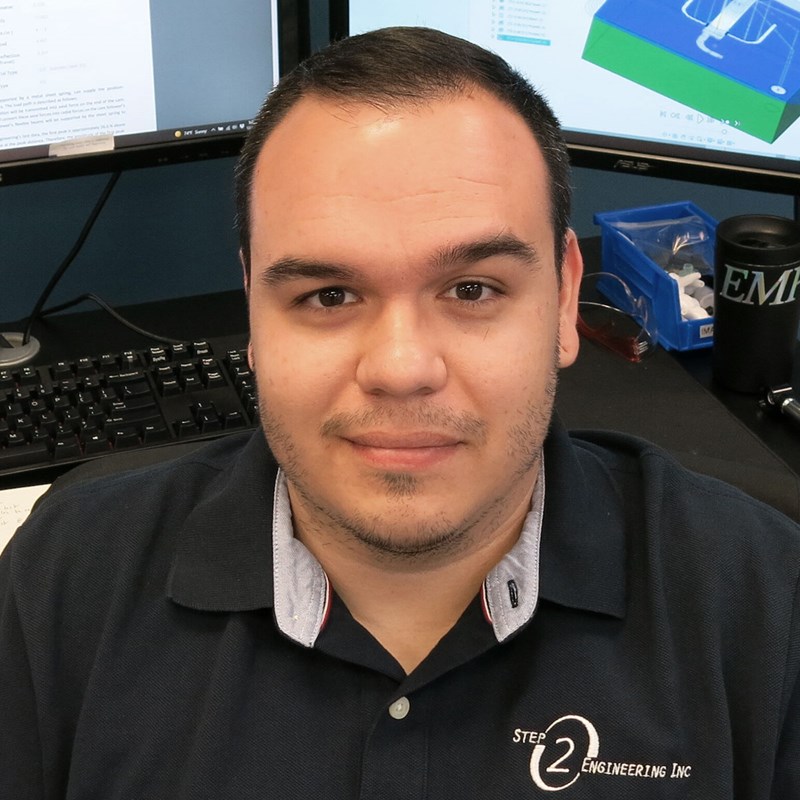 Mark Baptista
A south Florida native, Mark has always been interested in all things mechanical. Having started his journey with small frame engines and dirt bikes, he moved on to tinkering with cars which led to an interest in engineering. He graduated from the University of North Carolina at Charlotte in 2017 with a B.S in Mechanical Engineering with a concentration in motorsports. During his time in NC, he worked with a performance engine builder where he further developed his skills in machining, manufacturing, and mechanical design. Along with automotive experience, Mark also spent some time in the medical device industry where he gained experience in product and tool development, project life cycle, product manufacturing, and rapid prototyping.
Mark joined Step 2 engineering October 2021, where he focuses on delivering valuable solutions to our customers and ensuring project deliverables are executed according to plan. Mark looks forward to working with you to accomplish your next product goals. In his free time, Mark enjoys building and driving race cars, fishing, and adventures with his family.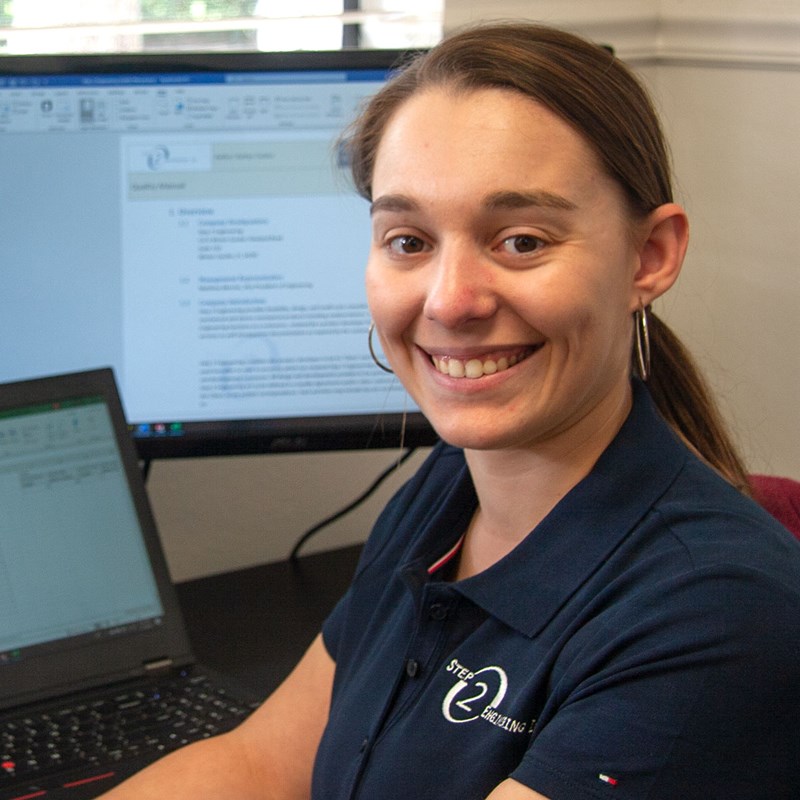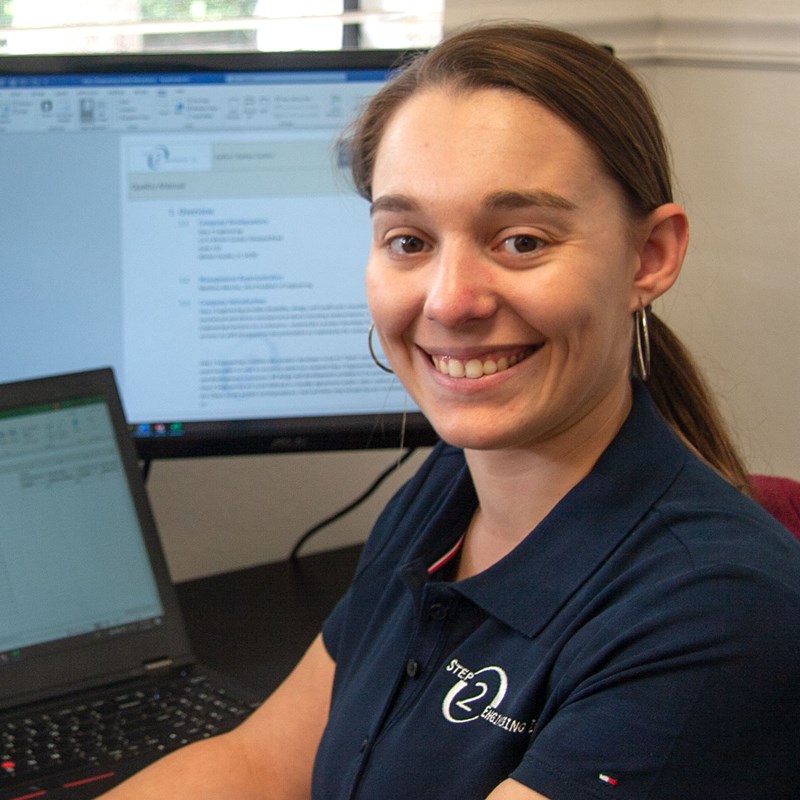 Kaitlyn DaSilva
Kaitlyn DaSilva is a recent graduate of Worcester Polytechnic Institute where she gained experience in Manufacturing Technology, CNC Machining, and Product Design. Originally from Connecticut, she moved to Florida and joined the Step 2 Engineering team in 2019. Kaitlyn focuses on quality management, and product development and testing. In her spare time Kaitlyn enjoys knitting, volunteering, and rooting for the Florida Gators. Go Gators! Kaitlyn is passionate about maintaining quality and excellence in the products she develops.
Matt Perez
Born and raised in New Jersey, Matt attended Northeastern University where he graduated with a B.S. in Mechanical Engineering. While in college, Matt was a coxswain for the Northeastern Varsity Crew team and a Lead Engineer on the Northeastern Formula SAE team. With experience in the medical device and injection molding industry, Matt is committed to delivering quality solutions that meet customer and end user expectations.
In his free time Matt enjoys cycling, cooking, and building custom keyboards.
Maria Gabriela Rocha
Born In Brazil, Maria Gabriela moved to Florida at the age of 7. She graduated from Florida Atlantic University with a bachelor's in health administration and Business Management. Her experiences include Online sales, Business Planning, Business Analysis, and Project Management.  Maria Gabriela joined Step 2 engineering as a Business Manager in March of 2021.  She speaks 3 languages: English, Spanish, and Portuguese. She is currently working on French. 
In her Spare time, Maria Gabriela enjoys art, live music, and traveling.